Southern Hot Honey Chicken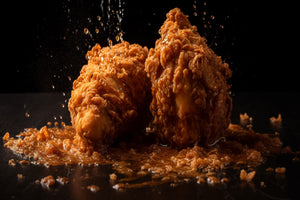 These Southern Fried Hot Honey Chicken bites are spicy, saucy, delicious and so easy to make. Breaded chicken bites are oven baked until crispy. Then they're finished with a warmed spicy hot honey and chili flakes. Great as a meal served with a side salad but even better as a game day smack!
INGREDIENTS
2 Lb boneless chicken breasts, cut into cubes
1 Egg
1 1/4 C Panko Crumbs
1 Tbsp flour
1 Tbsp Kanel Organic Southern Fried Chicken Spice
1/3 C Hive on Fire Hot Honey
1 Tbsp Glasses & Grapes Roasted Garlic EVOO
Glasses & Grapes Hot Rocks Spice or chilli flakes (optional)
PREPARATION
Preheat the oven to 425° F. Line a baking sheet with parchment paper.
Beat the eggs in a large bowl, add the chicken and toss well to coat. In a separate bowl combine the Panko crumbs, flour, and Kanel Organic Southern Fried Chicken Spice.
Dredge the chicken through the crumbs, covering fully. Place on the prepared baking sheet. Bake for 15-20 minutes, turning halfway through cooking.
Just before the chicken is done cooking, warm the honey and the EVOO. For a little more kick, add Hot Rocks or chilli flakes to your taste.
Drizzle or pour the warm sauce over the chicken, tossing to coat. The sauce thickens quickly, so be sure to use while still warm. Serve um up!