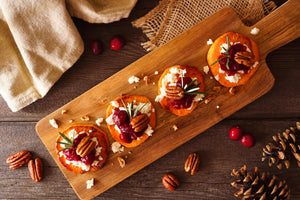 This easy appetizer has an amazing balance of all flavours. Sweet Potato crostinis are a seasonal favourite and require very little prep. It's the perfect vessel for toppings like pecans, Feta, dried cranberries and a drizzle of honey!
INGREDIENTS
2 sweet potatoes, cut into thin rounds – approx. 1/8 inch to ¼ inch thick
2 Tbs. Glasses & Grapes Rosemary EVOO
Maldon salt and freshly ground pepper
1/4 lb. Feta cheese crumbled
1/2 cup pecans
1/4 cup Hive on Fire (or fresh, local honey)
Top with dried cranberries.

DIRECTIONS
Preheat an oven to 250°F Line a baking sheet with aluminum foil. In a large bowl, toss together the sweet potatoes and Rosemary EVOO until fully coated. 
Place sweet potato slices on baking sheet, season with salt and pepper. Bake for 1 hour on each side until the potatoes are golden and crispy, once baked set aside and let cool.
Layer your sweet potato slices with feta cheese, pecans and drizzle with honey.