Zesty Shrimp Ceviche Salad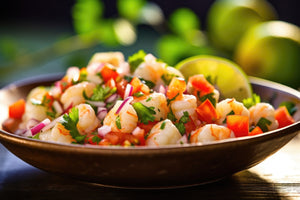 This vibrant ceviche salad is a delicious combination of flavours and an array of delightful textures. It's an ideal choice for a refreshing, light meal or to dazzle your guests as a party appetizer.
INGREDIENTS
2-3 fresh tomatoes
1/2 red onion
2 avocados
1-2 cucumbers, peeled
Fresh cilantro
1/2 lb. cooked shrimp, peeled & deveined, chopped 
Juice of 1/2 lemon
Glasses & Grapes Persian Lime EVOO
Salt and pepper to taste
DIRECTIONS
Dice tomatoes, avocados, and cucumbers into large chunks. Finely dice the red onion and chop cilantro. Mix the veggies with the chopped shrimp. Add lemon juice and a drizzle of Glasses & Grapes Persian Lime EVOO. Season with salt and pepper to taste. Serve with toasted pita bread for a delightful crunch.