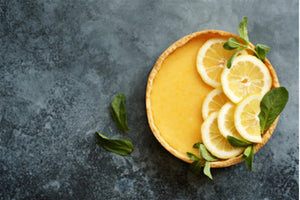 Meyer lemon is the perfect springtime flavour: this tart and sweet Meyer lemon custard baked on top of a layer of buttery shortbread is the ultimate sunny dessert. Flavours are brightest when served fresh.

PASTRY
1/4 cup butter, at room temperature
1/4 cup confectioners' sugar
1 1/2 tbsp ground almonds
1/4 tsp sea salt
3/4 cup flour
FILLING
1 egg yolk
3 1/2 tbsp Meyer Lemon EVOO
Juice of 2 lemons
Zest of 1 lemon
12 tbsp sugar
2 teaspoons cornstarch
2 egg yolks
2 whole eggs
2 ounces butter
2 tablespoons Glasses & Grapes House Blend EVOO

DIRECTIONS
1. In a large mixing bowl, combine butter, sugar, almonds, salt, and 2 Tbsp flour.

2. When the mixture is well combined, add the remaining flour, egg yolk, and EVOO. Mix with scraper until it forms a smooth ball.

3. With your fingers, press the dough as evenly as possible into a tart pan with removable bottom. Press the dough above the sides of the pan and cut off excess with rolling pin (roll it across the top).
 
4. Bake the pastry in a 425 degree oven until lightly browned ~ 10 minutes.
5. Make the filling: in a saucepan, whisk together all of the ingredients for the filling except the butter and EVOO. Cook over medium heat, whisking constantly to lighten the mixture, until thickened.

6. Off the heat, add the butter in pieces and whisk until melted. Add the EVOO and whisk until combined.

7. Pour the filling into the cooled crust and place in refrigerator to set for at least one hour.