Baked Eggplant Parmesan, Delicioso!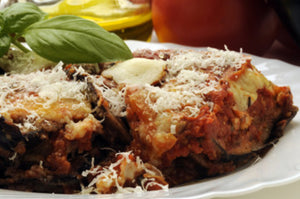 This delicious baked dish, with crispy coated eggplant slices is a great vegetarian main. Served with a side salad or angel hair pasta tossed with Tuscan Herb EVOO and a glass of Pinot Noir or Sauvignon Blanc will have you wondering, who needs meat?
INGREDIENTS
2 medium size eggplants
1 medium yellow onion, finely chopped
¼ cup tomato paste
28 ounces crushed tomatoes
¼ cup roughly chopped fresh basil, plus additional basil for garnish
1 teaspoon Glasses & Grapes Italian Herb Balsamic Vinegar
Pinch of red pepper flakes
2 cups freshly grated mozzarella cheese 
1 cup freshly grated Parmesan cheese
4 tablespoons Glasses & Grapes Fresh Garlic EVOO, divided
Fine sea salt and freshly ground black pepper to taste
DIRECTIONS
1. Preheat the oven to 425 degrees Fahrenheit with racks in the lower and upper thirds of the oven. Line two large rimmed, baking sheets with parchment paper for easy cleanup.
2. Slice off ends of eggplant, slice through the eggplant vertically to make long, even slabs ¼ to ½ inch-thick. Discard outside slices, brush both sides of sliced eggplant with EVOO.
3. Arrange in a single layer on the prepared baking sheets. Sprinkle with salt and pepper. Roast until golden and tender, about 25 minutes, halfway through baking, rotate the pans 180 degrees and swap their positions, set aside.
4. In a medium saucepan over medium heat, warm 2 tablespoons EVOO until shimmering. Add the onion and a pinch of salt. Cook until the onion is very tender and translucent, about 4 to 7 minutes.
5. Add the red pepper flakes and tomato paste. Cook, while stirring, about 1 minute. Add the crushed tomatoes, stir to combine, and bring the mixture to a simmer. Reduce the heat to medium-low and simmer until the sauce has thickened.
6. Remove from heat and stir in the chopped basil, vinegar and salt (to taste).
7. To assemble, spread about ¾ cup of the sauce in the bottom of a 9" square baker. Arrange about one-third of the eggplant slices over the sauce, overlapping slightly. Spoon another ¾ cup of the sauce over the eggplant and sprinkle with ¼ cup mozzarella cheese. Repeat layers with remaining eggplant to make three layers. Sprinkle the Parmesan on top.
8. Bake on the lower rack, uncovered, until the sauce bubbles and the top is golden, about 20 to 25 minutes. Cool for 15 minutes, chop and sprinkle additional basil on top. Slice with a sharp knife and serve.