Caprese Grilled Chicken with Dark Balsamic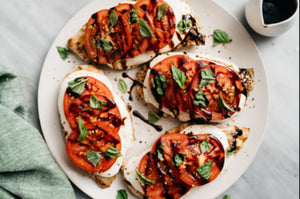 An amazing flavour combination! This easy recipe will impress your guests and leave you plenty of time to enjoy their company. Our balsamic vinegars are barrel aged, thick and rich, no need for reducing.
INGREDIENTS
6 grilled boneless, skinless chicken breasts
½  cup Glasses & Grapes Traditional Dark Balsamic Vinegar
4 tbsp Glasses & Grapes Tuscan Herb EVOO
6 slices mozzarella cheese
6 slices fresh tomato
12 large basil leaves torn
Salt & pepper to taste
DIRECTIONS
Pat the chicken dry and brush or rub with Tuscan Herb EVOO, salt and pepper to taste and grill the chicken over medium heat until it registers 160 degrees in the centre.
Top off or slice through horizontally and stuff the 'hot-off-the-grill' chicken with mozzarella cheese, torn basil leaf and tomato slice.
Drizzle with Glasses & Grapes Traditional Dark Balsamic and serve immediately.