Grilled Steaks with Board Dressing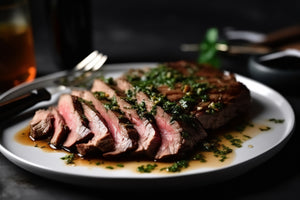 Looking to impress your guests, well, look no further than this Grilled Steak with Board Dressing. Chopped fresh herbs, garlic, and shallot mixed with olive oil and steak drippings are the base of an incredible dressing. 
Ingredients:

4 (12-16 ounce) strip or ribeye steaks
4 tsp salt, divided
2 1/2 teaspoons freshly ground black pepper, divided
1/2 cup chopped fresh parsley
8 sprigs fresh thyme, leaves only
2 small sprigs fresh rosemary, chopped
2 cloves garlic, minced
1 shallot, minced
3 tbsp Glasses & Grapes Tuscan Herb EVOO, divided
2 tbsp Glasses & Grapes 25 Star Dark Balsamic Vinegar
2 tsp Dijon mustard
2 tsp soy sauce
Instructions:

Season steaks evenly with salt & pepper; refrigerate at least one hour. Preheat grill to medium high.
On a cutting board (preferably one with a drip groove around edges), combine herbs, garlic and shallot. Lightly mince with knife to combine and sprinkle with salt & pepper. Drizzle with 1 tbsp Tuscan Herb EVOO.
Cook steaks to desired doneness. Place on top of herb mixture, and lightly tent with foil for 5-10 minutes. In a small mixing bowl, whisk together balsamic, Dijon and soy sauce; slowly add remaining EVOO while whisking.
Slice steaks while still sitting upon herb mixture; transfer to a clean platter. Scrape herb mixture along with drippings from cutting board into the mixing bowl with dressing; whisk to combine.
Spoon board dressing over strip steaks to serve. Bon Appetite!