Lemon Chicken with Thyme & Olives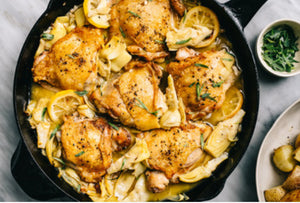 Having an assortment of chicken dishes to fall back on is a comfort to any home cook. Aside from roasting or frying (and in addition to grilling), braising chicken is a simple technique to master. Chicken thighs make the best braises; use skin-on bone-in thighs for the best flavor. Though it could be done on the stovetop, this dish is oven-braised.
INGREDIENTS
3 Tbsp plus 1/2 cup Glasses & Grapes Roasted Garlic EVOO, divided
4 skin-on, bone-in chicken breasts 
Kosher salt, freshly ground pepper
2 lemons
2 garlic cloves, crushed
3 large sprigs thyme
1/2 cup Sable & Rosenfeld Mediterranean Tapenade
PREPARATION
1. Pat chicken breasts dry; season generously all over with salt and pepper. Place on a rimmed baking sheet; let sit at room temperature at least 30 minutes and up to 1 hour.
2. Thinly slice 1 lemon crosswise into rounds; pluck out seeds. Place half of lemon slices in a small bowl. Add garlic and 1 Tbsp oil and toss to coat; season with salt and pepper. Set remaining lemon slices aside for serving.
3. Slice remaining lemon in half and squeeze juice into another small bowl. Set aside.
4. Heat heavy bottom skillet.
5. Pat chicken dry again and rub with 2 Tbsp. oil.
6. Sautee chicken skin side down, until skin is browned and starting to crisp, 15–20 minutes. Turn chicken over, cover, and continue to cook until an instant-read thermometer inserted into the thickest part of breasts registers 160°F, 8–10 minutes longer.
7. Transfer to a clean serving platter and let rest 10–15 minutes.
8. Sear oiled lemon slices, turning once, until charred in spots, about 3 minutes.
9. Transfer to a plate. Scatter thyme sprigs, olive tapenade, grilled lemon slices, and reserved fresh lemon slices over. Season with more salt and pepper; drizzle reserved lemon juice and remaining 1/2 cup oil over.
Let sit at least 15 minutes before serving.