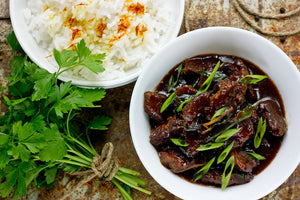 I love Chinese food and this super simple recipe for Mongolian Beef is perfect whenever the craving hits!

INGREDIENTS

1 lb beef flank steak, sliced 1/4 inch thick on the diagonal
1/2 cup vegetable oil for frying
1 tbsp minced garlic
1/2 tsp grated fresh ginger root
1/2 cup Sweet Dragon Pineapple Paradise 
1/4 cup water
2/3 cup dark brown sugar
1/4 cup corn starch
2 green onions, thinly sliced on a diagonal in 2-inch lengths

DIRECTIONS
Heat 1tbsp of vegetable oil in a saucepan over medium heat, stir in the garlic and ginger and cook until they release their fragrance, about 30 seconds. Add the Sweet Dragon Pineapple Paradise (available at Glasses & Grapes ;) water, and brown sugar. Increase heat to medium-high, stir until the sugar has dissolved and the sauce boils and slightly thickens. Remove sauce from the heat, and set aside. 
Place the sliced beef into a bowl, and stir in the cornstarch, coating it thoroughly. Allow the beef and cornstarch to sit until most of the juices from the meat have been absorbed, about 10 minutes.
Heat the remaining vegetable oil in a deep-sided skillet or wok to 375 degrees F
Shake excess cornstarch from the beef slices, and drop them into the hot oil, a few at a time. Stir briefly, and fry until the edges become crisp and start to brown, about 2 minutes. Remove the beef from the oil with a large slotted spoon, and allow to drain on paper towels.
Discard the oil, add the meat and sauce and return the pan to medium heat. Stir once or twice to combine and bring the mixture to a boil, after two minutes remove from heat. Sprinkle with sliced green onion and serve on its own or with rice and a side of broccoli.