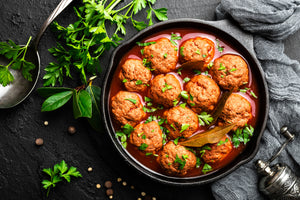 If you're looking for a hot and cozy fall recipe, you need look no further. These meatballs are as easy to make as they are delicious. I love to make ahead and freeze, makes a weeknight meal in minutes.
INGREDIENTS
1 pound lean ground beef
1 pound ground pork (or 1/2 pork & 1/2 veal if you have)
2 large eggs
1 cup freshly grated Pecorino Romano cheese (or Parmesan)
1 ½ tablespoons finely chopped flat-leaf parsley
1 small garlic clove, minced
Salt and ground black pepper
2 cups fine dry bread crumbs
1 cup Glasses & Grapes Fresh Garlic EVOO
1 Jar RAO"s Homemade Premium Marinara Sauce
DIRECTIONS
In a mixing bowl, combine the beef and pork. Add the eggs, cheese, parsley and minced garlic, then salt and pepper as desired. Add the bread crumbs and mix well.                                                                                                                   Slowly add up to 2 cups water, 1/2 cup at a time, until the mixture is moist; all the water may not be needed. Shape into 2 1/2 - 3 inch meatballs.
Heat the Fresh Garlic EVOO in a large sauté pan over medium heat. Working in batches and taking care not to crowd the pan, add meatballs and fry until undersides are brown and slightly crisp, 5 to 6 minutes. Turn and brown the other sides, about 5 minutes more. Transfer cooked meatballs to paper towels to drain, then add to the marinara sauce and mix gently. These are great served on their own with fresh crusty bred or with pasta (and a nice Sangiovese!).