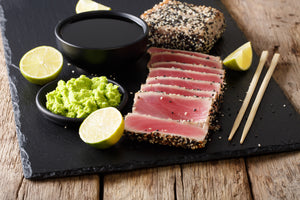 The crunchy black and white seasoned sesame crust on this simple dish is a real game changer. Serve as a side or as a main layered on arugula or rice.
INGREDIENTS
20oz sushi grade tuna
1 tsp toasted sesame oil
4 Tbsp Hawaiian 'Ono Poké
DIRECTIONS
Rub and cover the the tuna steaks with sesame oil.
 Place the Hawaiian 'Ono Poké on a plate. Coat the entire surface of the tuna by pressing the steak into into the mixture.
Heat a skillet on high heat. When at temperature, place the tuna steaks on the hot skillet and cook for 1 to 2 minutes on each side, depending on the thickness.
Set aside on a plate and slice tuna steaks once slightly cooled.