Pork Medallions with Raspberry Balsamic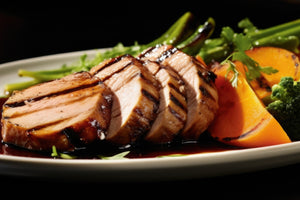 Tender pork, seared to perfection, is drizzled with sweet and tangy raspberry balsamic, creating a restaurant-quality dish that's quick, super simple and lets you serve a spectacular dinner with almost no hassle.
INGREDIENTS
1 pork tenderloin (1 pound)
2 tbsp
Glasses & Grapes Raspberry Balsamic Vinegar
2 tsp Dijon mustard
DIRECTIONS
Flatten pork to 1/2-in. thickness; sprinkle with salt & pepper.
In a large skillet over medium heat, cook pork in Fresh Garlic EVOO for 3-5 minutes on each side or until no longer pink. Remove and keep warm. Add Raspberry Balsamic and mustard to the pan. Cook and stir for 2-3 minutes or until thickened. Serve drizzled over pork.