Tomato & Basil Pesto Galette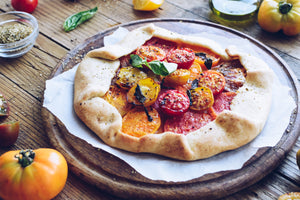 It's such a short season and a vine-ripened tomato is one of the greatest culinary gifts. This galette is extremely simple and takes full advantage of their flavour, it doesn't require any great skills with pastry and there is no blind bake, yet the base always comes out super crispy and golden! Try not to over mix the dough, you want a few lumps of butter to get a nice flaky texture.
Pastry:
140g all-purpose flour
85g unsalted butter
pinch of salt
1 Tbsp of ice water
Filling:
3 ripe tomatoes
2 onions
2 Tbsp of butter
50g grated parmesan
Fresh basil 
100ml Glasses & Grapes Roasted Garlic EVOO
Maldon salt & fresh ground pepper to taste
DIRECTIONS
Preheat the oven to 390 degrees.
Thinly slice the tomatoes and sprinkle with Maldon salt to release excess water
Make the pastry by rubbing the butter into the flour and salt until it reaches a sandy consistency, then add enough ice water to bring the dough together.
Wrap and chill the dough for 30 mins.
Caramelize the onions in a hot frying pan and butter, season with salt and pepper, consistently stirring for around 15 minutes, until golden brown and jammy.
Roll out the chilled dough into a circle, sprinkle with a little flour to help it stay crisp, spoon on the onions, sprinkle with half the grated parmesan and then layer the tomatoes on top with a bit more salt, pepper and a drizzle of Roasted Garlic EVOO.Bake at 390 degrees for 25 minutes. 
Meanwhile make your pesto by combining the basil, garlic, the other half of parmesan and Roasted Garlic EVOO in a mortar and pestle or blender.
When the galette is out of the oven, spoon over the pesto and serve.