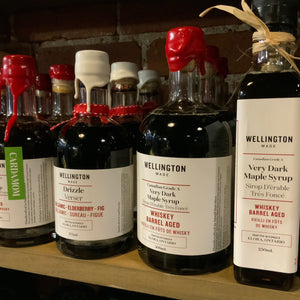 So happy we discovered Wellington Made, a small, family owned business is located in Elora, ON. The company's focus is on creative and interesting ways to produce small batch, plant based syrups with a sense or terroir and old world craftsmanship using only local ingredients. 
The dark Canadian maple syrup is tapped later in the season and therefore offers a more intense maple flavour than lighter syrups. This beautifully packaged, perfect maple syrup is hand tapped and then barrel aged for 4-8 months in freshly dumped whiskey barrels! And while I have only tried a few, there are plenty of creative ways to stimulate your palate and enhance your health with this awesome product. With high counts of antioxidants  and minerals, this syrup is truly a gift from nature!

Try it drizzled on pancakes, crepes or ice cream, on baked brie with walnuts oh yes please, and of course as a glaze on salmon, my personal favourite. Give it a try and let us know what creative ways you have to use this gift from nature.