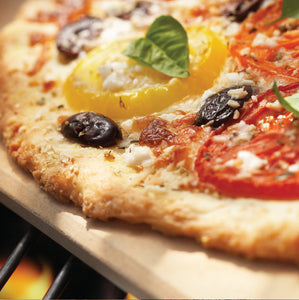 I am (somewhat) confident in the kitchen and love to try new recipes. One thing I have always loved to make is pizza. White sauce, red sauce, no sauce, meat lovers, vegetarian, in the oven, on the BBQ, any kind of pizza.
This past Christmas I bought a couple of pizza stones as gifts for some family members, after rave reviews from the stone recipients I knew I wanted one. So, I set out to find a supplier, mission accomplished and they are now available at Glasses & Grapes. Over the years, I've had different stones, screens and trays for baking pizza, but I have to say that none have quite measured up to this stone. The large rectangular size and 3/4 inch thickness can withstand temperatures to 1450 degrees. This high heat quickly creates an amazing, crispy crust without over cooking the toppings. 
Here's a link to a flavour packed, easy, delicious pizza recipe from Rachel Ray and when you use store made pizza dough, it's ready and on the table in about 30 minutes.