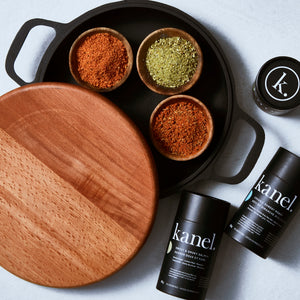 Honestly, I might really be obsessed! Not only did Kanel meet my expectations, but I have to say, in my opinion they are a real game changer. 
Created by a few food and wellness loving women from Montreal, these thoughtfully sourced, gourmet blends are free from any artificial ingredients and preservatives, and certified organic where possible. The blends are created using only the freshest ingredients from around the world and deliver exciting flavours that simply make home cooking easier, faster — and more delicious than ever. In fact, I just may need to plant an avocado tree if I can't stop eating the Montreal Bagel Spice on avocado toast.
So, if you're looking for a little inspiration in your kitchen Kanel might just be exactly what you're looking for. Maybe you know someone who loves to cook, consider sending them some fun, beautifully packaged spice blends that will get them excited about their next meal!