Spaghetti Aglio Napoletano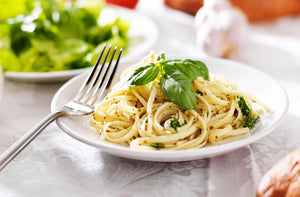 INGREDIENTS
1 box linguine or spaghetti (or 3/4 lbs fresh pasta)
2/3 cup Glasses & Grapes Tuscan Herb EVOO
3 Tbsp Aglio Napoletano
Sprigs of fresh parsley, optional
Salt, optional
Parmesan cheese, optional
DIRECTIONS
Put a large pot of salted water on to boil.
Heat the EVOO in a large deep pan over medium-high heat. Once shimmering, add the Aglio Napoletano. Stir frequently for 2 to 3 minutes and turn off the heat.
Once water has come to a rapid boil, cook the pasta until it is just about al dente. Drain and reserve 1 cup of the pasta liquid.
When the oil has cooled for a couple of minutes, add 1/2 cup of the pasta cooking water, and reduce over high heat by about half.
Add the pasta, and stir vigorously as it continues to cook. Add the reserved pasta water a bit at a time as necessary to finish cooking the pasta, and develop the thickened sauce.
Optionally season with salt, parsley, and parmesan cheese if desired, and serve.