Parmesan Brussels Sprouts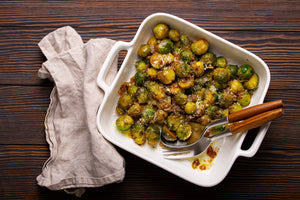 Savour the flavour of parmesan crusted brussels sprouts, a delicious side dish that'll make you crave veggies! With a crispy, cheesy exterior and tender, flavourful interior, this dish is a guaranteed crowd-pleaser.
INGREDIENTS
1 pound brussels sprouts, halved
2 tbsp Glasses & Grapes Zesty Onion EVOO
1/4 tsp freshly ground black pepper
1/4 tsp maldon salt
3/4 cup grated parmesan
DIRECTIONS
Preheat the oven to 425°F.
In a bowl, toss the sprouts with the olive oil, salt, and pepper. 
Spread the sprouts onto a parchment-lined sheet tray. Roast for 8 minutes, then sprinkle the parmesan over top and roast for a further 4 minutes. Remove from the oven, set aside to cool, and then transfer to an airtight container and refrigerate until ready to use. This will keep for up to 5 days.