Sauteed Vegetables with Balsamic Vinegar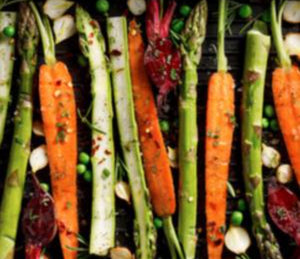 A simple recipe for vegetables that let's their quality and freshness shine through! A variety of other vegetables (cut at least 1/2-inch thick) can be used with this recipe such as: mushrooms, onions,  sweet potatoes or squash.
INGREDIENTS
3 tbsp Glasses & Grapes Tuscan Herb EVOO
3 tbsp Glasses & Grapes Traditional Dark Balsamic Vinegar
1 small onion, chopped
1 red or orange bell pepper cut into strips
1/2 bunch of asparagus, ends trimmed and sliced lengthwise
1/2 bunch heirloom carrots sliced lengthwise
1/2 tsp red pepper flakes
Ground pepper and salt to taste
DIRECTIONS
Heat Tuscan Herb EVOO over medium to low heat in a large skillet.
Sauté all ingredients for 8 to 10 minutes. Drizzle with Balsamic Vinegar.
Serve immediately.