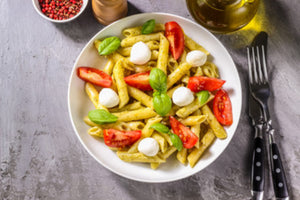 This Caprese Pasta Salad recipe is super quick and easy to make ahead of time, and it's always a crowd favourite! A great vegetarian weeknight dinner, or add grilled chicken to make it more hearty.
INGREDIENTS
1 box of Penne Pasta
1/4 cup Glasses & Grapes Tuscan Herb or Roasted Garlic EVOO
3 tbsp dried Italian seasoning or 1/2 cup fresh chopped
1 cup cherry tomatoes cut in half
1 cup chopped (bite size) fresh mozzarella cheese
Salt and pepper to taste
PREPARATION
1. Bring a large pot of lightly salted water to a boil; cook the penne at a boil until al dente, about 8 minutes; drain.
2. Mix herbs, EVOO, salt and black pepper in a bowl; add pasta. Toss to coat.
3. Fold in tomatoes, mozzarella, mix well and chill for several hours.
4. Drizzle with additional EVOO, garnish with fresh basil and Parmesan cheese.