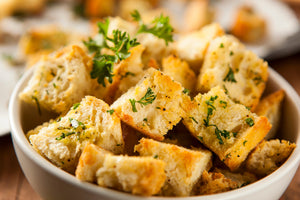 Bursting with flavour, our Tuscan Herb Croutons are made with combination of our best selling EVOO and one of our favourite Kanel Seasonings and baked until golden perfection. Simply drizzle, sprinkle and bake.
INGREDIENTS
1 Italian Baguette, cut into 1/4" cubes
1/4 cup Glasses & Grapes Tuscan Herb EVOO
2 Tbsp Kanel La Vita E Bella Seasoning

DIRECTIONS
Preheat the oven to 350°F.
Arrange the bread cubes on a baking pan and drizzle with EVOO and seasoning. Gently toss to coat.
Bake until golden in color and crispy but still slightly soft, about 10 minutes.